MIKE SCOTT
CAPTAIN OF THE ALBATROSS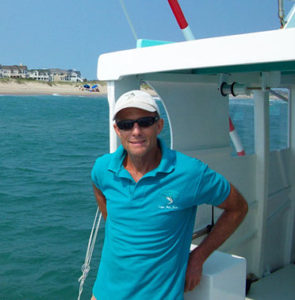 Like all of our Captains, Michael is a Cape Hatteras High School graduate and started working on the water shortly there after, mostly Commercial fishing, but also Sport fishing and Dredge boating.
When in in his late twenties, he founded and ran a boat building and repair business during which time he built 47 wooden boats up to 39 feet and repaired many more, including major repairs and renovations to the Albatross Fleet.
In 2001, he sold his business and went back to work on the water, Sport and Commercial fishing. He has run the ALBATROSS since 2004. Boats and fishing have not been his only activities on the water. He was also a serious surfer for 44 years, a kite boarder for 10 and now spends his free time sailing as much as possible.
He knows the waters from Cape Point to Ocracoke Inlet intimately and it is a rare day that he cannot find the fish somewhere. He knows a lot about the history, geography and trees of Hatteras Island and can keep the rare, slow day of fishing interesting for the curious.
---
BRYAN MATTINGLY
CAPTAIN OF THE ALBATROSS II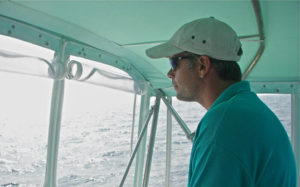 Beginning in the early '80s Capt. Bryan worked for 8 seasons as a mate with The Albatross Fleet before getting his captain's license.  He skillfully runs the Albatross II and brings in the fish.  He continues The Albatross Family tradition with this son, Sumner, working as his mate during the summer seasons.
A commercial fisherman in our off season, His is a growing voice for the value of local, wild caught seafood and has represented North Carolina fishermen at meetings and conferences along the east Coast.  He also serves a Director of the Cape Hatteras Electric Cooperative
Capt. Bryan is a talented chef who knows how to cook 'em as well as catch 'em!  He and Antoinette, his creative wife, an artist and owner of Kinnakeet Clay pottery and gallery in Avon, are behind Hatteras Cat, a rich pet treat made from recycled fish scraps from our catches.
---
CRAIG WATERFIELD
CAPTAIN OF THE ALBATROSS III
Craig Waterfield, a Hatteras Island native, started working when he was 12 years old. He night fished in the summer with his Granddaddy Indus Austin and Oliver O'Neal. Captain Oliver ran the Albatross III from 1954-1978.
Craig went from gill net fishing to crabbing when he turned 16. After a few years of crabbing, he transitioned into building houses. He had a long and successful career, owning his own company and building or being apart of the construction of over 150 houses on Hatteras Island.
Craig started working for the Albatross Fleet in 2006 on the Albatross II with Capt. Bryan. He mostly fished the shoulder seasons and commercial king mackerel fished along with gill net fishing in the sound.
Craig's greatest passion is building boats. He has built 14 center console boats so far and can't wait to build the next one. We are glad to have Craig with us once again, helping the Fleet into the future.